Home
Contact Us
Telephone: +44 (0) 7984 426542 E-mail: design@p1technology.com
Product Manufacturing
We consider manufacture at all stages of the design process to produce a well considered design solution that is appropriate for its function and market. With our strong supply contacts locally and in the Far East, we can source and supply your product depending on your needs.:
Injection Moulding
Injection moulding is a process for producing plastic components from mobile phones to traffic lights, and is usually used for mass manufacture. Plastic granules are fed into a heated barrel until melted, mixed, and forced into a metal injection mould tool cavity where it is cooled and hardens to the negative of the tool.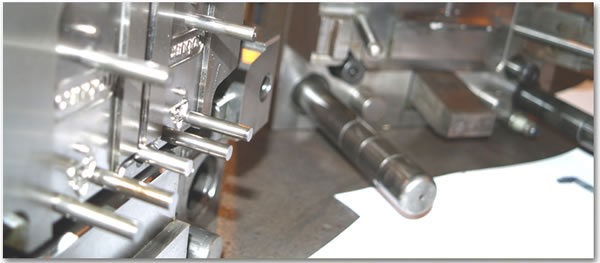 Caudon Clip, Legacy Habitat Managment, 2007 Plastics design for manufacture
We design components for moulding using SolidWorks 3D CAD, considering drafts, split lines, wall thicknesses, side movers, and tolerances to then pass a 3D CAD file to a toolmaker. Considering injection mould design early in the design process enables us to consider cost savings in tooling early on, by designing the part with the mass manufacturing process in mind./p>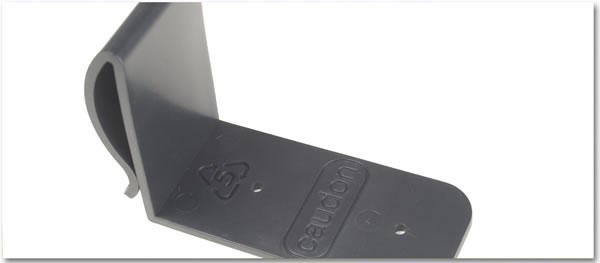 Caudon Clip, Legacy Habitat Managment, 2007 Manufactured clip currently in production and on market
A simple injection mould tool, usually has two halves which open and shut to create a basic plastic component, and this would be the cheapest way to produce a tool. If there are more complicated features such as snaps, and holes, it will require what is called a side mover, which is a separate piece of metal that moves in on another plane to create a feature in the mould. Mould tools are usually made from Aluminium or Steel and hardened depending on the volume of components to be produced or type of material to be used, and the tools are usually manufactured using CNC machining and Electrical Discharge Machining (spark erosion).
Sheet Metal
Press tools are usually used in sheet metalwork operations, and fabrication processes. When designing sheet metal components, we usually take advantage of press brake manufacturing techniques.
We are also available to provide and advise on mouldings , forgings, castings, componentry and fully assembled products at any scale of production.
P1 Technology has been developing and supplying products for many years. If you are a UK based company requiring help getting the final stages of the product development process completed we can help. We will check over and help develop the product to a manufacturing stage, help with materials choice and either source or help source a manufacturer, weather it is high volume or low volume production. If you would like us to examine your existing practices to develop areas of product improvement please do not hesitate to contact us on +44 (0) 7984 426542, email design@p1technology.com or fill in our online enquiry form.
© 2023 - P1 Technology. Registered Number: 05022001 | Privacy Policy | Terms and conditions | Disclaimer


Web Design by
Order a 3D Print